Deborah's latest release CRESCENDO is the 2014 ANTHONY AWARD NOMINEE for Best Audio Book. Impeccably voiced by TV and film actress Christina Cox (Dexter, NCIS, 24, Defying Gravity, The Chronicles of Riddick, Better Than Chocolate, Nikki & Nora) who brings every character and setting to life with prowess and finesse. The audiobook is now available worldwide from AUDIBLE and iTunes. CDs of the recording can be found at Amazon. To listen to an excerpt and download the recording, please visit Downpour.com.
CRES

C

ENDO
Book Three of the Inola Walela/Steven Hawk Suspense Series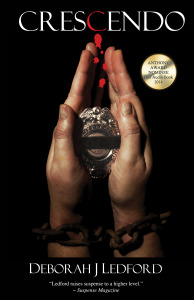 One dead woman.
A missing child
The diabolic father who will do anything to get his son.
The female cop who risks everything to keep the boy safe.
 Redemption with a Bullet
Inola Walela takes center stage as the only female Native American officer on the Bryson City, North Carolina police force, Inola Walela, must always play her A game. All bets are off when during a routine traffic stop the passenger insists her son has been kidnapped but is struck by a car before Inola can glean any hard facts. An altercation ensues and Inola's partner is felled by a bullet—possibly from her gun. On administrative leave, fraught with guilt for allegedly killing her partner, and obsessed with the possibility of a missing child out there somewhere, she defies the force and her fiancé, Sheriff Steven Hawk. Inola sets off on her own journey to find the missing boy.

"With her trademark evocative prose, Ledford drew me into the hazy Smoky Mountain world of Native American Police Officer Inola Walela—a world filled with danger, pain, and deep compassion. I kept turning pages long past my bedtime to keep up with Inola on her vivid and explosive adventure. Highly recommended!"
-Rebecca Cantrell, New York Times – bestselling author, The World Beneath
"Ledford raises suspense to a higher level."
- Suspense Magazine
"I love Deborah Ledford. Every time I tried putting CRESCENDO down Ledford hooked me into reading 'just a few more chapters.' The action in this book is dangerous to sleep cycles."
– Jeffrey Siger, author of The New York Times Book Review Pick for the Summer, Target: Tinos