The Inola Walela/Steven Hawk Suspense Series
by Deborah J Ledford – Books 1 & 2
SN

A

RE
Book Two of the Inola Walela/Steven Hawk Suspense Series
The Hillerman Sky Award Finalist
New Mexico-Arizona Book Awards Finalist.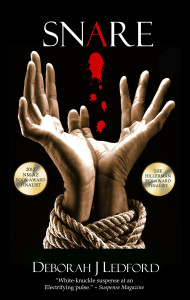 One rock star sensation.
 Two men from her past want her dead.
 Three others will risk everything to keep her safe.
 Who will be caught in a trap?
 Revenge With a Beat
S

T

ACCATO
Book One of the Inola Walela/Steven Hawk Suspense Series
 Three world-class pianists.
 Two possible killers.
 One dead woman.
 Who is her murderer?
 Who will be next?
Retribution Played Double-Time