2016 Anthony Award Nominee for Best Audio Book, CAUSING CHAOS
2014 Anthony Award Nominee for Best Audio Book, CRESCENDO
CAUSING CHAOS
Book Four of the Inola Walela/Steven Hawk Suspense Series by Deborah J Ledford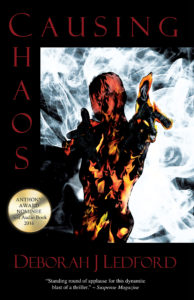 Four missing women
Three suspects living parallel lies
Two forces battling for a resolution
One cop determined to clear a friend
Zero opportunity for failure
Vengeance for Truth
CRES

C

ENDO
Book Three of the Inola Walela/Steven Hawk Suspense Series by Deborah J Ledford
One dead woman.
A missing child
The diabolic father who will do anything to get his son.
The female cop who risks everything to keep the boy safe.
Redemption with a Bullet
CAUSING CHAOS and CRESCENDO are ANTHONY AWARD NOMINEES for Best Audio Book. Impeccably voiced by TV and film actress CHRISTINA COX (Elementary, Shadowhunters, Arrow, Dexter, NCIS, 24, Defying Gravity, The Chronicles of Riddick, Blood Ties, Nikki & Nora) who brings every character and setting to life with prowess and finesse. These audiobooks are available worldwide from AUDIBLE and iTunes.