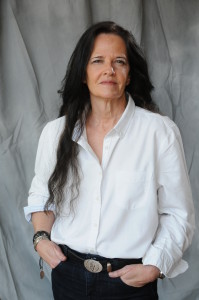 Two-Time Nominee for the Anthony Award in the Best Audiobook Category. Agatha Award winner DEBORAH J LEDFORD is the author of the Inola Walela/Steven Hawk police procedural series, including: CAUSING CHAOS, CRESCENDO, STACCATO, and the Hillerman Sky Award Finalist and New Mexico-Arizona Book Awards Finalist, SNARE. Three-time nominee for the Pushcart Prize, her award-winning stories appear in numerous print publications as well as literary and mystery anthologies. Her latest release, CAUSING CHAOS is the 2016 Anthony Award Nominee for Best Audio Book. Also an Anthony Award Nominee for Best Audiobook is Deborah's book three in her series, CRESCENDO. Both recordings are narrated by TV and film actress CHRISTINA COX (Elementary, Shadowhunters, Arrow, Dexter, NCIS, 24, Elysium, Chronicles of Riddick, Blood Ties). Produced by IOF Productions Ltd, the audiobooks are available from Audible and iTunes. She is also an Arizona State University adjunct professor for The Virginia G. Piper Center for Creative Writing.
Also a screenwriter, Deborah is President/Producer for the independent media company, IOF Productions Ltd. She produced the CAUSING CHAOS and CRESCENDO audiobooks as well as The Blind Eye, also narrated by Christina Cox. Before her career as a writer she worked for a decade as a professional scenic artist on motion pictures, industrial films, national commercials and live theatre. Due to her work on industrial films for clients such as Intel and Motorola, Deborah earned security clearance through the US Government. Highest acclaim is for her scenic artistry on the Coen Brothers' film Raising Arizona. Part Eastern Band Cherokee, she spent her summers growing up in the Great Smoky Mountains of western North Carolina where her novels and quite a few of her literary and short stories are set. She lives in the Phoenix, Arizona area with her extremely patient husband two awesome Aussie Shepherd boys.
Trade Associations
International Thriller Writers Association (ITW), Sisters in Crime National, Sisters in Crime Desert Sleuths (Arizona) Chapter President 2012-2013.